Miinu Limited, an imaginative mobile software developer focused on developing entertaining apps such as a App Store hit 'My Sketch' (with more than 10 million users), has announced a price-drop of CariCartoon 1.0 for the iPhone, iPad, and iPod touch devices running on iOS 7.1 or later.
CariCartoon lets users create uniquely funny cartoon caricatures from their selfies, which can be customized and shared in a few simple steps. Offering multiple editing tools and diverse design templates that enable users to beautify their cartoon caricatures, the app ensures user's selfies stand apart from the crowd with ease. CariCartoon focuses on 3 main strengths which are quality, speed, and simplicity. The cartoon caricature result will surprise many people because it looks like it was being hand-drawn by professional artists.
The highlight of the app is a truly revolutionary "sophisticated face conversion algorithm" that is developed by CariCartoon that turns any selfies to 'cartoonized' version instantly & allows users to edit mobile photos with the same results as if they were editing on a sophisticated software on computer or even being hand-drawn by artists!
Using the CariCartoon app users can utilize a uniquely simple-to-use menu to throw in effects into almost any selfies they've created on their device. With CariCartoon, everyone can turn their selfies into caricatures with one of the 4 skin colors, 40 hairstyles, hair & lips color, 150+ different props, 70+ scenarios, 40 background themes and much more. As socially minded as it is geared towards recreation, CariCartoon allows users to share their caricatures instantly via social media networks including Instagram, Facebook, Twitter, Email, WhatsApp, Tumblr, and Snapchat!
Boasting a highly intuitive interface, app enables users to focus on creation and innovation above all else. With CariCartoon, the caricature creation process takes mere seconds! With an additional discount available since June 20 & featuring revolutionary caricature algorithm, CariCartoon becomes a must-buy caricature app for all iOS shoppers.
CariCartoon, the ultimate caricature app that turns selfies to realistic and beautiful looking cartoon caricatures, is available now in the App Store at https://itunes.apple.com/app/caricartoon/id972169659
For more information or media inquiries, contact appshout! on behalf of Caricartoon at +1 408 757 0156 or press(at)appshout(dot)com.
About Miinu Limited
Miinu Limited is a mobile development studio committed to producing functional photography and lifestyle solutions geared to bring iOS app users into greater harmony with their mobile devices. (C) Miinu Limited 2015. All Rights Reserved. Apple, the Apple logo, iPhone, iPod and iPad are registered trademarks of Apple Inc. in the U.S. and/or other countries.
For more information, visit http://www.miinu.com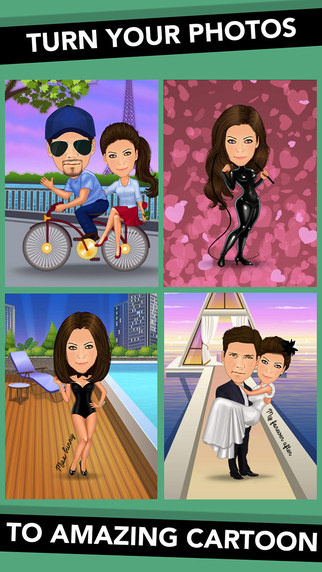 View Interactive Press Pack